Destination:
The Kodiak Island Archipelago is about 177 miles long and encompasses nearly 5,000 square miles. At 3,588 square miles, Kodiak Island is the largest in the group. Two-thirds of the island consists of the Kodiak National Wildlife Refuge. Close to 3,500 giant Kodiak brown bears make their home here, along with Sitka black-tailed deer, fox, mountain goats, reindeer, Roosevelt elk, Stellar sea lions, sea ducks, numerous whale species, salmon, crab and halibut.
Kodiak Sea Duck Hunting:
Kodiak, Alaska has robust populations of some of the most unique and prized trophy sea ducks, surrounded by beautiful scenery. Whatever species you wish to target, you are assured an experience that will forever be etched into your memory.
At Rogue Expedition, we specialize in collecting trophy birds in perfect plumage for the discriminating collector. Because of this commitment, we do not start hunting sea ducks until late November when the birds begin feathering out fully.
We work hard by scouting continually, keeping track of several different species of birds and we are willing to customize our hunt strategies and targets in order to best achieve your goals.
While Alaska waterfowl limits are generous, we prefer switching species once a mountable bird or two have been harvested. For example, if you wish to mount two drake Harlequins, we will hunt until you have two mature, beautifully feathered drake Harlequins and then switch our focus to another species of your choosing, instead of continuing to shoot Harlequins just for the sake of killing a limit. This ensures that you can achieve your personal goals while simultaneously maintaining healthy local bird populations that we can hunt with great success for years to come.
The Alaska Department of Fish & Game regulations allow for Nonresident licensed hunters to take up to 7 Sea Ducks per day and posses up to 20 per season. Additionally a Nonresident may not posses more than 4 of any the following species per season. Common Scoter, Surf Scoter, White Winged Scoter, Harlequin, Long-tailed Duck, Common Eider & King Eider. Stellar's and Spectacled Eiders may be observed while hunting on Kodiak but may not be hunted.
Nonresident waterfowl hunters in Alaska are required to possess a nonresident Alaska small game license, Federal duck stamp and Alaska state duck stamp. License and stamps are available online or in the city of Kodiak.
Species Offered:
Pacific Common Eider
Black, Surf, White Wing Scoters
Harlequin
Long-tailed (Oldsquaw)
Barrows Goldeneye
Incidental or Species Available Upon Request:
Common Goldeneye
Scaup (Bluebills)
Bufflehead
Common Merganser
Red-Breasted Merganser
Mallard
American Wigeon
Pintail
Gadwall
Green-winged teal
Canada goose
Aleutian Dark Fronted Goose
Rare Species Available Based Only Upon Opportunity:
King Eider
Pacific Brant
Eurasian Wigeon
2018 Emperor Goose Hunts:
Emperor Goose hunting is available in Alaska for the first time in 30 years!
Nonresidents wishing to hunt Emperor geese must draw a tag in the lottery drawing. The application for the Emperor goose tag is due on Dec 15, 2017 and is good for one (1) Emperor goose during the 2018/19 season. We are happy to assist hunters with the application process free of charge.
If you would like Rogue Expeditions' assistance with the Emperor Goose drawing, your personal and credit card information is due to Rogue Expeditions by Dec 10th to ensure an on-time and accurate application.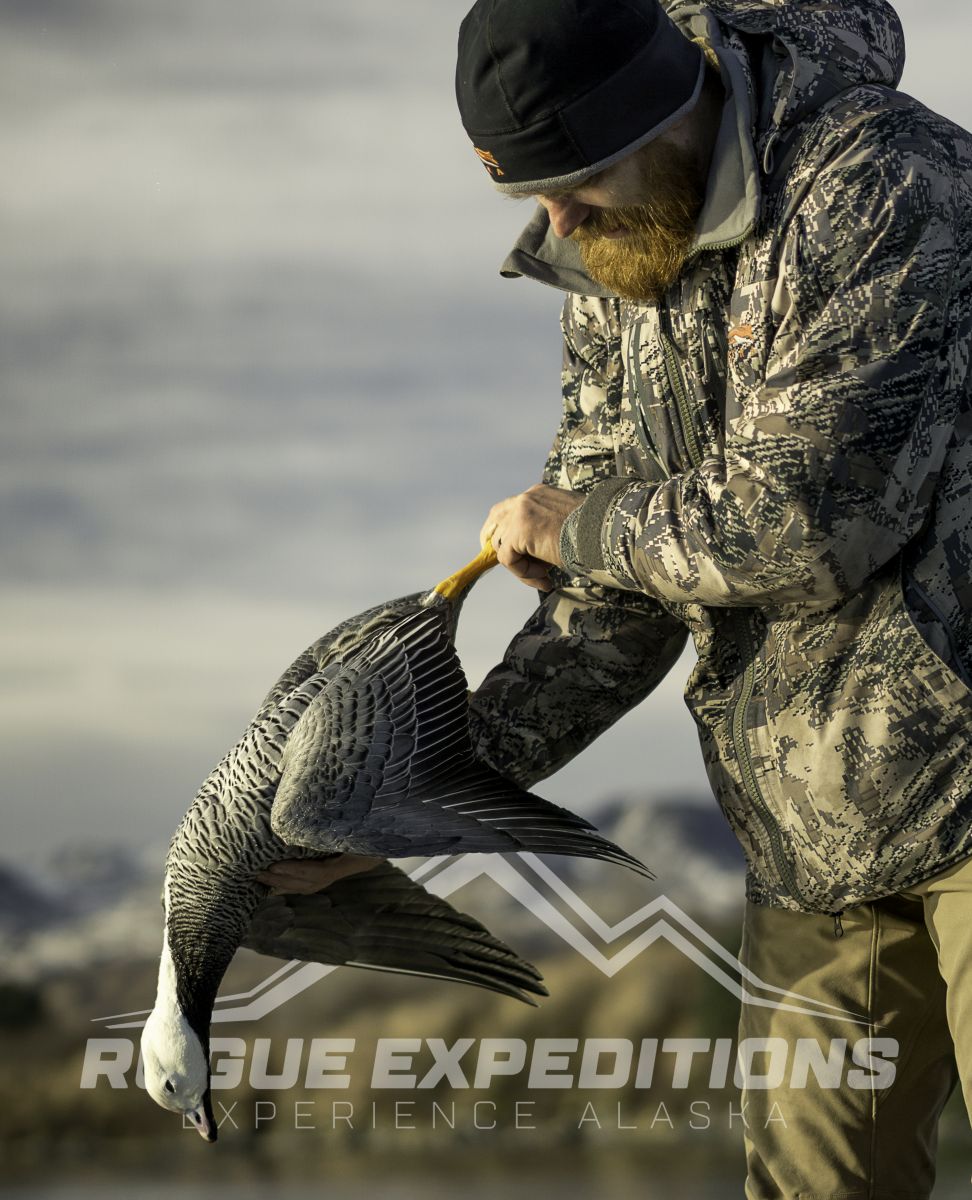 Sea Duck and Emperor Goose/Sea Duck Combo Hunt Dates:
Because of our commitment to shooting trophy mount quality birds in full winter plumage, we will be booking hunts from November 18, 2018 through January 22, 2019. The hunts consist of 4.5 days of hunting and 6 nights of lodging. Hunters will fly in on a Sunday, hunt Monday through Friday morning and fly out on a Friday afternoon.
2018/2019 Hunt Dates: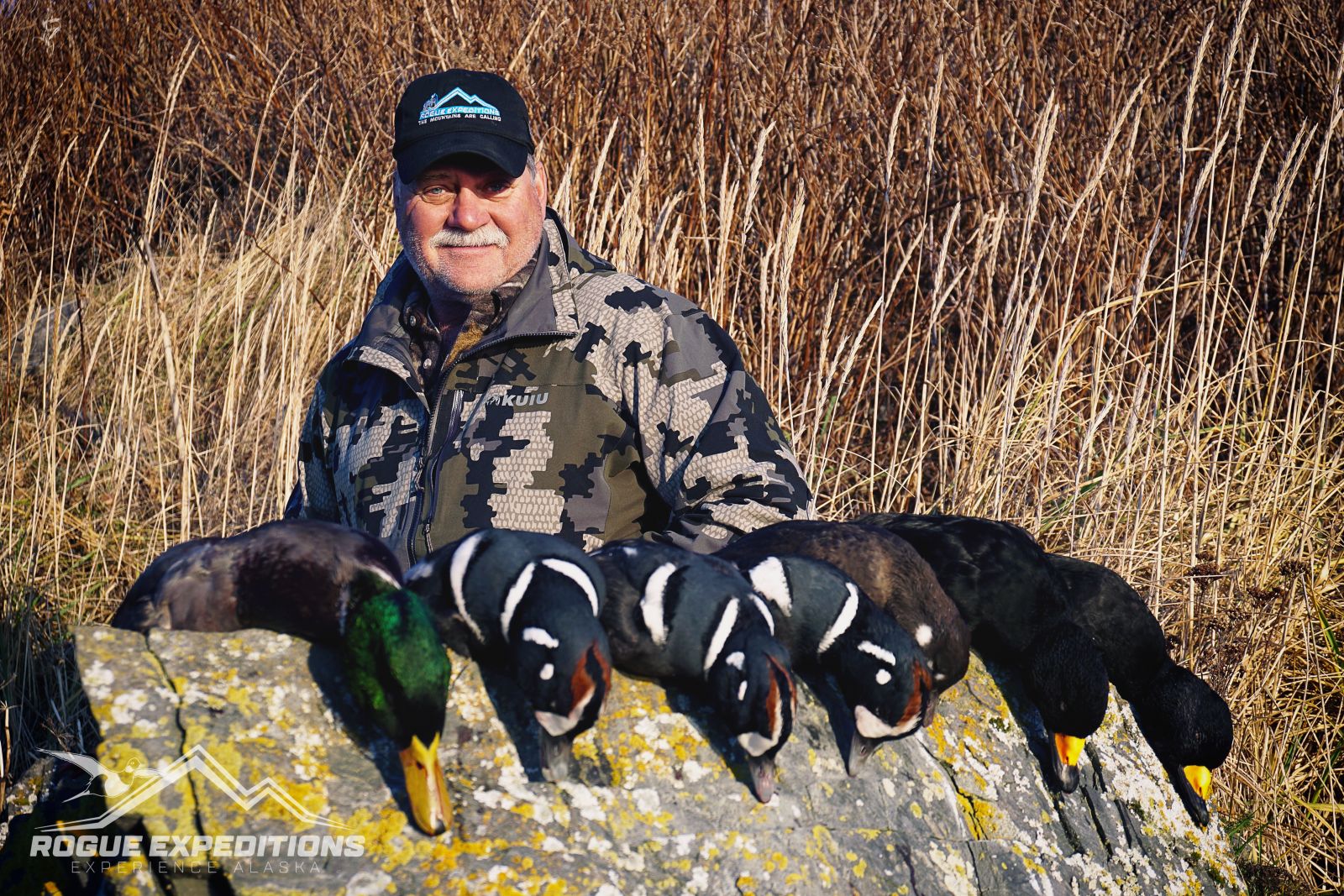 November 18 - 21**
November 25 - 30
December 2 - 7
December 9 - 14
December 16 - 21
December 26 - 29**
December 30 - January 4
January 6 - 11
January 13 - 18
January 19 - 22**
**Call do to discuss pricing and additional details of the 3-day hunts.
Travel to and from Kodiak:
Rogue Expeditions recommends that hunters fly directly to the city of Kodiak on Alaska Airlines. Alaska Airlines is less prone to delayed or canceled flights, although delayed or canceled flights are always a possibility due to weather. See the "Weather Delays" section below for more information regarding potential delays in flight schedules.
Hunters will arrive in the city of Kodiak on Sunday at approximately 5:00 pm, hunt all day Monday-Thursday, hunt Friday until noon and and fly out at approximately 5:00 pm on Friday. See the section below called "Weather Delays" for more information on potential weather delays.
Your guide will pick you up from the airport upon your arrival and drop you off at the end of your hunt with your carefully packaged trophies.
Accommodations:
Lodging is a comfortable, bunkhouse style duplex with hot showers, washer/dryer, boot dryers, wifi, etc.
Meals are hearty homestyle cooking with an Alaskan flare. In the morning you will wake up between 6am and 7am. Breakfast will consist of bacon or sausage, eggs and toast with hot coffee. Lunches are typically lunch meat, cheese and bagel sandwiches, with plenty of granola bars and candy bars to snack on throughout the day. For dinner you might eat grilled bison steaks, fresh crab, halibut or tuna steaks, with a side of green salad, potatoes, or pasta. Because daylight is limited in December and January, you will be able to retire to bed anytime after dinner that you wish and get plenty of rest to prepare for the following days hunt.
Alcohol is available from various stores in the city of Kodiak, but not included in the price of the hunt.
Hunting Strategy:
Sea duck hunting on Kodiak Island is primarily done over decoys from shore blinds, over decoys in the blind boat or by sculling. Because we are hunting on saltwater, the shoreline is always changing with the tides and gives us countless locations to set up for a shoot.
Sculling is similar to spot and stalk big game trophy hunting. It allows the hunter to pick out a single, mature trophy bird from a distance, then slip in quietly and take the bird from close range.
The northern proximity and lateness of hunting in December and January limit shooting times to about 7 hours per day. We begin days with a home cooked breakfast between 6:00 am and 6:30 am. We typically launch the boat by 8:00 am depending on how far we have to run to get into birds and wether we are setting decoys or scull hunting. Shooting light varies between 8:30 am and 9:00 am during the winter months.
We provide the option of one guide per one hunter or one guide per two hunters. We do not mix parties unless this is communicated with and agreed upon by both parties prior to the hunt. If you have three hunters hunters that would like to hunt together, this is an option that we would be happy to accommodate depending on a variety of logistics. Please feel free to call Rogue Expeditions to discuss options and make arrangements.
Rates:
1 Guide : 1 Any Species Hunter: $5500
1 Guide : 2 Sea Duck Hunters: $3500
1 Guide : 2 Emperor Goose/Sea Duck Hunter: $4500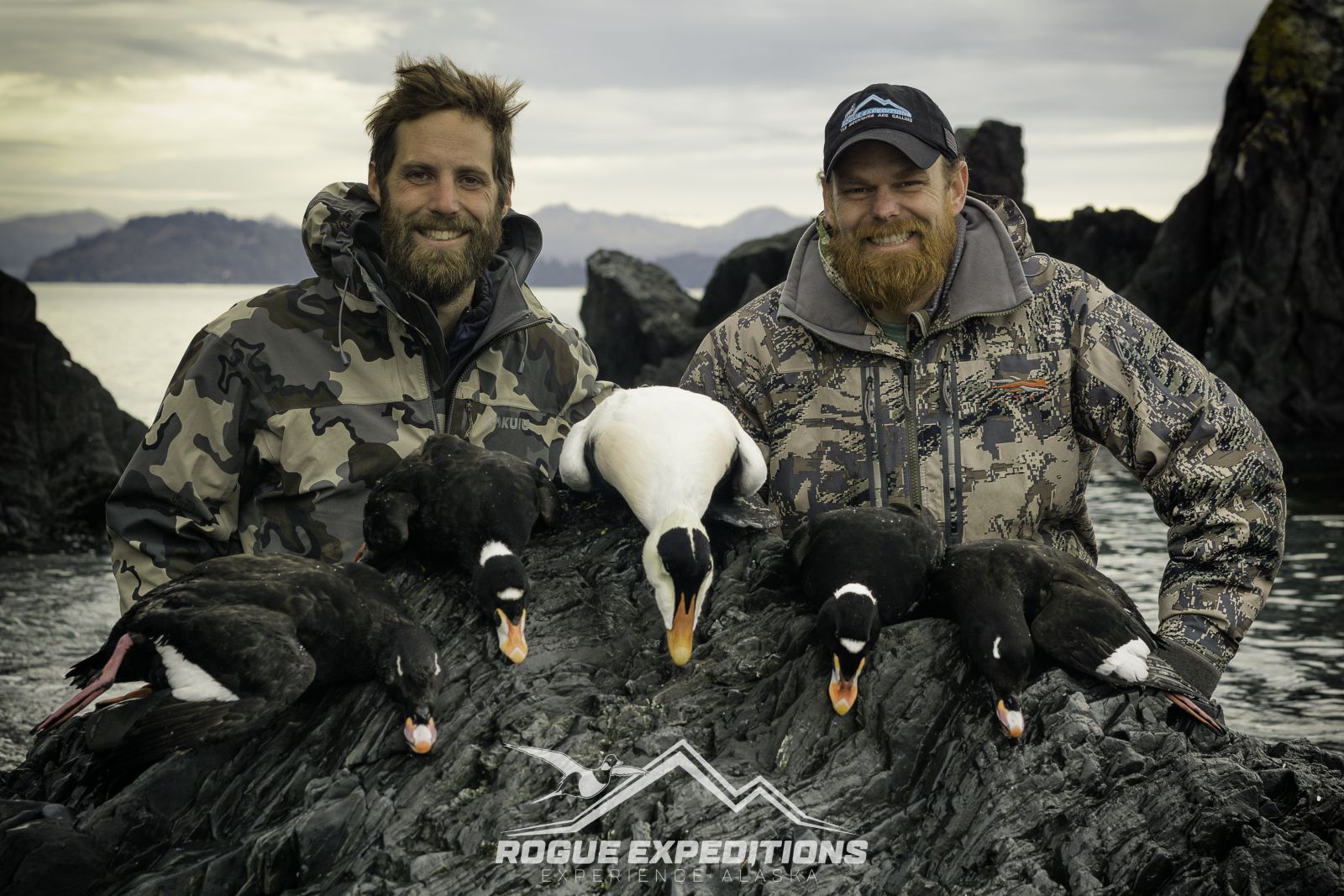 Includes:
We want your trophy waterfowl hunting experience with Rogue Expeditions to be a memory to last your lifetime. As a result we work hard to take care of everything from the time you land until you leave the beautiful island of Kodiak with your hard earned trophy birds.
Your hunt includes a professional, knowledgable guide, airport pick up and drop off, comfortable accommodations, hearty meals, transportation around the island during your five day hunt, trophy packaging and airport drop off.
Please see the "Weather Delays" section below for potential costs not included in the hunt package.
Not Included:
Hunting license and stamps, airfare to and from Kodiak, additional lodging before and after hunt dates (optional), tips, alcohol, trophy expediting and taxidermy.
Shotgun shells are not included in the cost of your hunt. Some shells are available in the city of Kodiak and if you do not have a strong preference, you may purchase shells when you get your license and stamps. However, if you do have a preference of what load you shoot, we strongly recommend bringing your own shells in the original manufacturer's boxes in your checked luggage.
License Information:
You will need an Alaska big game license or Alaska small game license, Alaska state waterfowl stamp and Federal waterfowl stamp in order to hunt waterfowl in Alaska. If you want to hunt Emperor Geese, you must draw a tag that is good for one (1) Emperor goose during the 2018/2019 hunting season. The application deadline is December 15, 2017.
Upon arrival in the city of Kodiak, we can take you to purchase any license and/or stamps that you may need before you can hunt.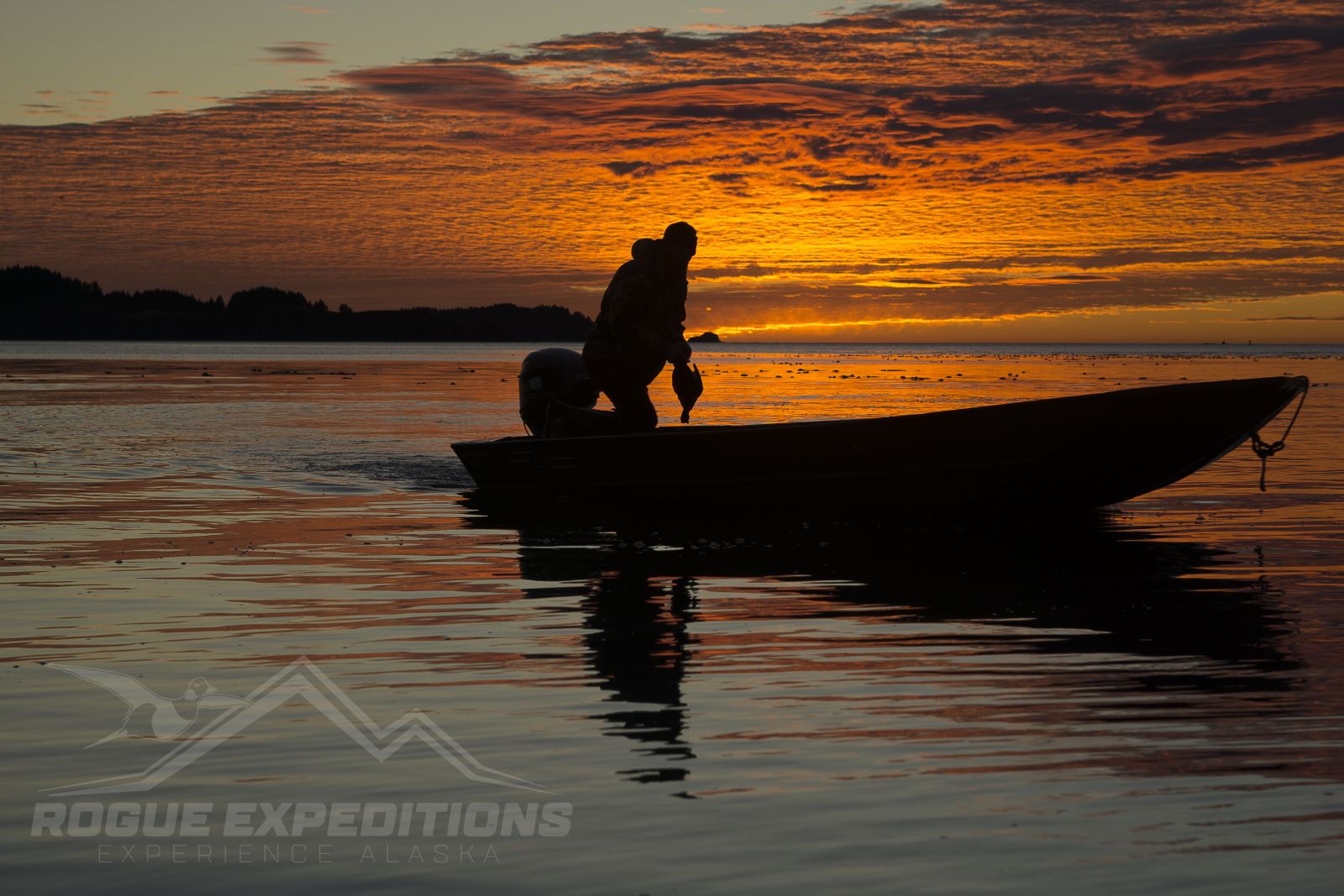 Weather Delays:
Weather delays are a very real logistical challenge of hunting on Kodiak Island. There is a possibility that your incoming flight may be delayed causing you to lose hunting time. This can be frustrating for hunters who are not accustomed to such delays, especially when they have invested a great deal in a hunt, are traveling long distances to get to Kodiak and are excited to go hunting.
Unfortunately, we are currently unable to offer additional hunting days on the end of a hunt. However, rest assured that if your arrival is delayed, your guide will be out scouting while awaiting your arrival so that once you do arrive and are able to hunt, you can get on the birds quickly and make up for lost time.
If you are concerned about a potential weather delay cutting into your hunting time, you may fly into Kodiak one day earlier than recommended, on Saturday instead of the Sunday before your first day of hunting. If you choose this option, you will be responsible for all transportation, lodging and food costs until noon on the Sunday before your hunt begins. We will pick you up from your hotel at noon on Sunday and cover your meals, lodging and transportation as a part of your hunt package until your scheduled departure time.
If, in the event that your outgoing flight is delayed, we will be happy to offer transportation to the hotel of your choice. At that point you will be responsible for your own food, lodging and transportation until you are able to leave Kodiak. We will be very happy to make recommendations for both food and lodging options, so that your additional stay here in the city of Kodiak is a pleasant one.
We know that weather delays can sometimes test your patience, but we hope that you will understand that it is part of the adventure of hunting in a remote location and we hope that you will enjoy whatever additional down time that you might be fortunate to have in our beautiful state of Alaska.